Most garden centers sell tomato plants which you could buy and plant in your garden. But why is it a good idea that you grow tomatoes from seeds? For starters, every seasoned tomato grower will tell you that growing your tomatoes from seed allows you to access a large variety of tomatoes rather than simply having to settle for limited selections of the tomatoes. Tomatoes are generally heat lovers and as such, most gardeners find themselves not having sufficient time to grow the tomatoes outdoors. For this reason, they start off by growing them indoors under lights after which they are transplanted out in the field.
Choosing tomato seeds
To grow tomatoes from seeds, the first step is to know the options available at your disposal. For starters, you can decide to plant organic seed in which case you are advised to look for seeds that are certified. Depending on your area, it is essential that you choose seeds that are disease resistance. You should research about the diseases that are present in your locality and look for varieties that are built to resist the diseases. Heirloom tomatoes are preferred by gardeners who are interested in flavorful tomatoes.
What do you need?
To grow tomatoes from seeds, there are a number of things that you will need. The first one is of course the tomato seeds which you can buy from your local gardening store. Secondly, you will also need containers to grow the tomatoes in. any small container or pot that has a depth of about 3 inches will suffice provided its bottom has drainage holes. Various options you can here include take out containers, juice cartons and yoghurt cups among others. Thirdly, you will need potting mix to ensure that your tomatoes absorb the water well in addition to allowing the excess water drain. It is not advisable that you use soil from the garden as it sometimes have pathogens, weed seeds and can at times compact in containers. When your tomato seeds germinate, you should provide them with light as well.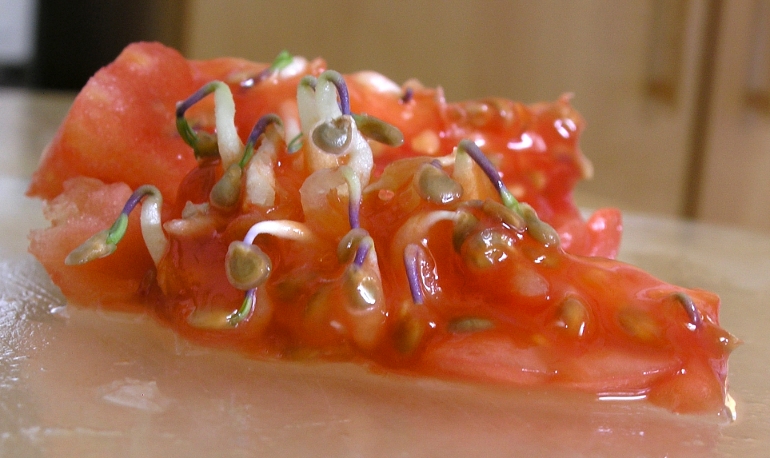 When to plant
As highlighted here above, tomato seeds can first be planted in the garden after which they are transplanted in the garden. Generally speaking, tomato seeds tend to germinate fairly quickly, i.e. between 5 and 10 days. Tomato plants also tend to develop incredibly fast and you can thus schedule to plant the seeds about 6- 8 weeks before the time intended for outdoor transplanting. The time for transplanting will however be determined by the prevailing weather during the year and the last date of frosting. Remember that your seedlings will grow faster if you keep them warmer and provide them with more light.
Preparing the containers
Before planting the tomato seeds in the containers, adequate preparations are in order. The potting soil needs to be dampened. This should be just an easy procedure that involves adding some water to the soil and working it thoroughly. The water should be added until the soil mix feels well compressed in the hand. However, don't wait until it gets dripping wet. It should be in a way that it starts breaking apart when poked with a finger. Then, carefully fill the pots with the soil and form the soil gently until it is just an inch or so from the top.

Planting the tomato seeds
Start by making ¼ inch furrows in your planting mix. Carefully sprinkle 2 or 3 seeds in the furrow and use the potting mix to cover the seed. Firm the mix gently to ensure that the seeds get into a perfect contact with your soil. The surface can be sprayed with some water just in case you feel that it is not adequately moist as you would want it to be. Mostly importantly, being patient pays a lot especially when dealing with tomato seeds as they are very delicate. The containers with the seeds should be placed in a place with a relatively warm environment and should be checked on a daily basis especially in order to en sure that the soil stays moist at all times and not wet. Keep watching the containers each day for germination. Another idea would be to place your containers in a plastic bag in order to create a greenhouse like structure and remove the bag once the seedlings start emerging.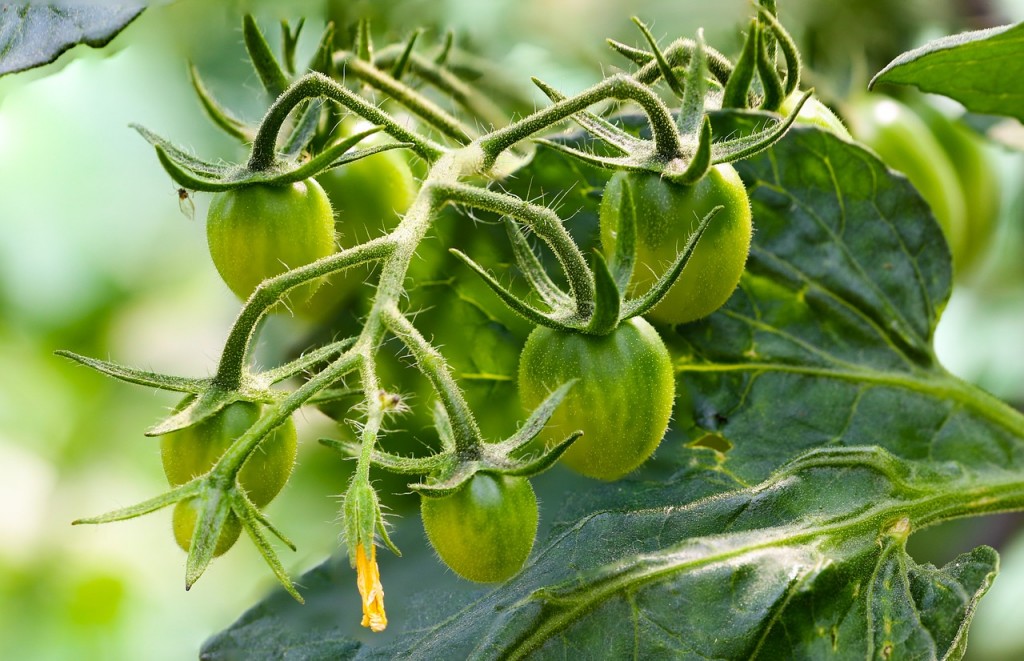 How to care for your tomato seedlings
After the tomato seedlings develop true leaves, it is a high time to ensure that you start feeding your seedlings. You can use liquid fertilizer at least once in a week but ensure that you are using only the best fertilizer and dilute it accordingly as per the manufacturer's recommendations. At this stage, light is one of the most critical elements. Ensure that that the tomato seedlings are kept close to the lights and should also be rotated accordingly especially when they start showing as if they are growing as they lean in a certain direction. The stems of a tomato plant tend to grow studier when tossed by the wind and you can have a wind simulation at your indoors by using a fan.
Transplanting the tomato seedlings outdoors
Once your tomato seedlings are ready for transplanting in the garden, it is essential that you do the transplanting on an overcast or cool day. Make sure that you plant them much deeper than the way you had planted them in the pots to ensure that new roots form along the stem buried in the soil. If your garden doesn't allow you to plant them deep in the soil, you may still consider planting them in a furrow, sideways.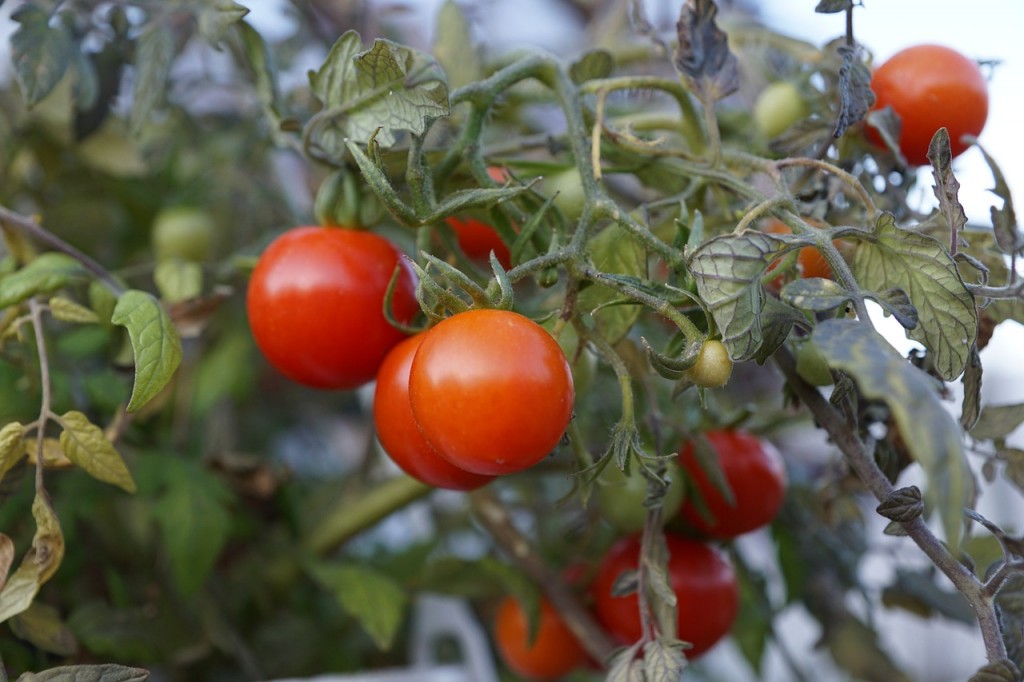 After you are done with transplanting your tomatoes, it is very important that you take good care of them. Ensure that you water them regularly and that the soil has all the nutrients they need to facilitate their growth. Remember that tomatoes are vulnerable to diseases both on the leaves and fruits and you can avoid this by ensuring that your tomatoes are strong and healthy at all times.
Tomato Growing – From Seed To Harvest
Ferry-Morse 3140 Organic Tomato Seeds, Beefsteak (600 Milligram Packet)
Seeds of Change 06465 Certified Organic Early Roma Tomato
OSU Blue Tomato- 5 Seeds – The Worlds 1st Blue Tomato,Rare
Tomato Planting How to grow tasty tomato (Gardening made easy, seed planters, container herb gardening)
7817 Total Views
7 Views Today